Bergen County Home Improvement Projects Done with Care and Professionalism
If you live in Bergen County, you know everything it's famous for in NJ. Hots dogs, its courthouse with gold eagles on the rooftop, the malls of Paramus, and the Palisades are only a few of the highlights this area has to offer. You also know that dense housing leaves a homeowner with the option of tearing down and rebuilding or hiring a professional home improvement contractor to update their living space.
Prominent Builders and Design are the Homeowner's Solution for Kitchen Remodeling
The most popular room to change in a home is the kitchen. Remodeling this room takes the knowledge and skill of a professional who understands all that is involved in home renovations. All home improvement projects begin with an idea – yours. But how do you take that idea from concept to reality? By hiring the Bergen County professionals at Prominent Builders and Design.
Whether working on a bathroom renovation or remodeling kitchens, we take great care to understand your vision. Once we know the goals for your home improvement project, our design team gets to work on the plans. We communicate each step of the way to make sure you are pleased with the result.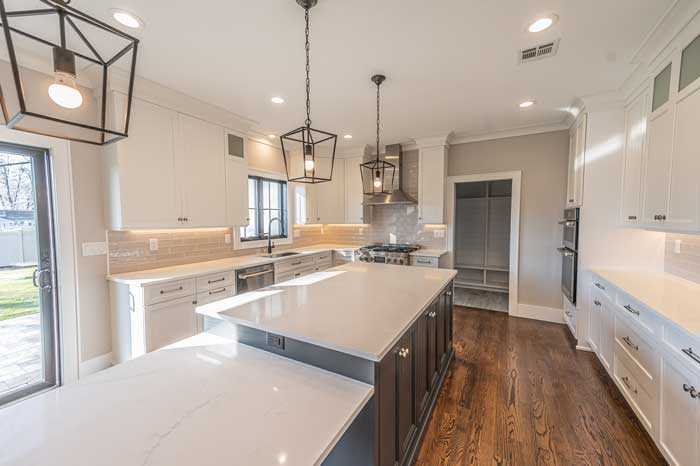 Contact Bergen County's Home Improvement contractor today to discuss your kitchen remodeling project.
Interested in Remodeling Your Bathroom?
The next popular renovation project is bathroom remodeling. There are so many options when it comes to remodeling a bathroom, including the following:
Using Low-Threshold or No-Threshold Showers,
Adding Extra Storage,
Installing Steam Showers and Saunas, and
Incorporating Radiant Flooring.
We are well-versed in renovation services. Our Bergen County clients continually rave about the bathroom remodeling projects we complete. And nothing is left to guesswork. Our design specialists will help you select the fixtures and materials that match your style and needs.
Ready to take the next step in bathroom remodeling? Contact us today.