The events of 2020 have certainly shaped our lives in different ways, including the concept of "home."  Since the beginning of 2020, home utility has evolved into being our workplace, school, gym, and decompression zones.  It only makes sense, then, that the trends are moving in the direction of this new definition of home.
In this month's blog, we examine some of the new home plan trends of 2021, and offer some ideas on where to get started in the process.  If you are planning a brand-new build or just looking to make changes to your existing home, we review ways to begin planning and executing your new home space(s).
We look at three design trends, as follows:
Home Office/Den
Home Gym/Multi-functional Space
Outdoor Space
One over-riding trend to all of the spaces is that they should be designed with flexibility of functionality in mind.  This gives homeowners the ability to easily change up their spaces to conduct various tasks or interests throughout the day and week.
Home Office/Den
Many organizations are embracing the work from home concept after seeing increased productivity and positive benefits for their employees.  Employers are allowing their employees to adopt a more flexible work model where they can work remotely some or even all of the time.  Those individuals who had to transition their work from an office location to their home, know the importance of having a functional home office.
Regardless if the office is part of a new build or an existing home, the space should be designed with the flexibility to be used for other purposes.  The flex den/office is a great way to create the right office environment, but have another place to relax with music, reading, or TV when not working.
Shelves:  Important considerations for home offices include shelving for books, photos and home décor items.  Homeowners are no longer adding a small bookcase, but are doing build-outs on an entire wall with space for décor and books, or even drop-down hidden desks.
Desks:  Desks are not just solitary pieces of furniture anymore.  Many homeowners are building desks into the shelving units on their walls or a popular design includes island desks that extend out from the book-shelved wall.  These desks provide functionality on both sides of the island and can include durable countertop options like granite or quartz.
Privacy:  If your office space is brand-new, consider closing it off with French Doors.  If it's a bedroom conversion, make sure you have a way to close off the office from the remainder of the house during working hours to avoid the daily distractions such as the dog or children.
Connectivity:  Of course, it goes without saying that any home office should be adequately wired for internet and phone connections.
Home Gym/Multi-functional Space
Everyone's idea of a gym may be different based on their fitness goals and interests.  Just as we suggested in the flex office/den concept, think about how you can convert existing space into a home gym that provides more than just fitness utility.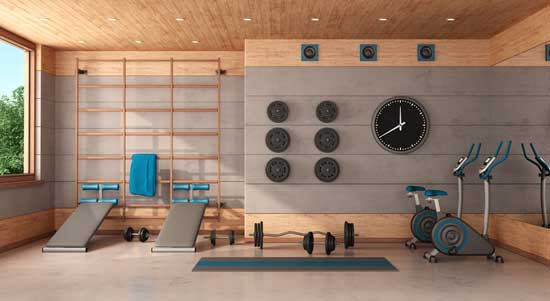 Open floor space:  This space should be multi-functional, allowing homeowners to exercise with equipment, complete a yoga workout, or even work on a new hobby.
Storage options:   If floor space is necessary, then good storage space is helpful.  Storage space is important because it gives someone the ability to put away exercise equipment and set up an area for a wood working or painting hobby.
Connectivity:  Of course, it goes without saying that any gym should be adequately wired for internet and/or Wi-Fi.
Outdoor Space
Spending more time at home also means homeowners want to have more creative entertainment and relaxation zones.  Outdoor space is no longer just a deck or patio.
Outdoor kitchens:  More homeowners are building outdoor kitchens equipped with cooking features, storage, refrigerators, and even pizza ovens.  This allows homeowners the opportunity to enjoy the outdoors more and get out of the indoor kitchen while preparing the entire meal.  A dining area is a must for any outdoor kitchen.
Relaxation zones:  Fire pits continue to be a popular way to keep the entertainment going outdoors once the sun sets.  If conversation is not your cup of tea, then consider an outdoor television area.  Of course, any electronics would need to be in a weather-protected area but putting a flat screen on a wall mount outside gives you the flexibility for another space to escape to in the evenings.
Gardening:  In 2020, more consumers started to grow their own vegetables and herbs.  Vertical space-saving gardens are an easy way to cultivate some fresh herbs and vegetables.  There are a variety of garden boxes that do not take up much space, but can provide a healthy crop of vegetables that can be tended to easily.
These are just a few of the many design trends you can incorporate into your existing home or your next new home build.  While building out any of these spaces, make sure to consider how you can work in SMART technology where possible.  That includes lighting, sound, thermostat controls, and others.
If you are thinking about making some changes to your home, or want some ideas as you are designing your new home, contact us at Prominent Builders and Design for a home consultation.  Our design professionals will review many options with you based on your interests and needs.  We can work with you through the entire process from concept to execution.