Wyckoff Home Improvement Contractors that Aim to Please
Located in Bergen County, Wyckoff is a town with well-rated public schools and plenty of outdoor activities for residents; it is a popular place to raise a family and is considered one of the best places to retire in NJ. The homes in the town are older, which typically means that at some point, you will want to renovate for home improvement. When you decide to get started, you will want to consider our team of professionals. Prominent Builders and Design is a family-owned business that has been providing more spacious and updated living spaces for Wyckoff homeowners for over three decades.
Ready to renovate? Call our Wyckoff home improvement contractors.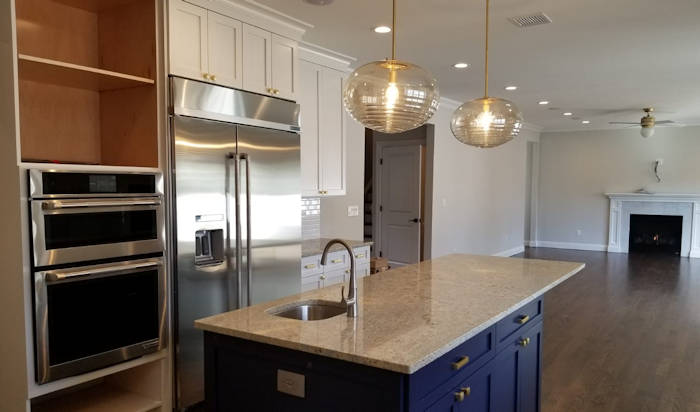 Top Reasons for Kitchen Remodeling
By far, the kitchen is the most important space in the home. It's the gathering place where you cook, eat together, and talk about your days. Looking around your kitchen, does it look cluttered and feel outdated or dysfunctional? If so, that is probably one of the biggest reasons for remodeling your kitchen. Like every home improvement project, renovating the kitchen should consider your lifestyle and the room's functionality. It's also the perfect space to take advantage of the latest technology! The other top reason for going through a kitchen remodeling is the return on investment you will receive when it comes time to sell.
Contact us today so we can assist you in completing your dream kitchen remodeling project.
What do you want to accomplish with your bathroom remodeling project?
Bathroom remodeling projects are done for any number of reasons. Here are some of the more common ones:
Safety – Many retirees are opting to stay in their homes instead of downsizing. In these cases, safety is probably the biggest concern. These
bathroom remodeling projects typically include the installation of low or no-threshold showers, walk-in tubs, widening doors, and adding grab bars.
Increasing Home Value – It's no secret that upgrading a bathroom is a wise investment that will increase the value of your Wyckoff home.
For Looks and Comfort – Many bathroom remodeling projects are inspired by a design the homeowner saw in a magazine.
Regardless of your why, our design consultants and the project team will work with you each step to bring you to your final goal… a comfortable, safe and relaxing bathroom.
Reach out to us today to discuss the start-up of your bathroom remodeling project.