Building a custom home can be an extremely rewarding process!  Today's homeowners who choose to work with a custom home builder get a chance to turn their dreams into reality.  But building a custom home comes with many choices and decisions.  One of those decisions that you need to make early in the process is picking the layout, or floor plan, of your new home.  But with so many options, what type of floor plan should you choose?
In this month's blog, we review two of the more popular floor plans for custom homes, explain the key differences, and highlight the advantages and disadvantages of each.
The Open Floor Plan
The open floor plan has been an emerging architectural trend since the 1990s.  Many southern homes, such as homes built in Florida, have offered open floor plans for many years.
An open floor plan is when there are fewer separating walls, and two or more rooms are adjoined to create one large room, or "great room." 
This concept typically applies to homes where the kitchen, living room, and dining rooms are part of one open area without any dividing walls.  In some home designs, open floor plans may even extend beyond the interior into the exterior patio and entertainment space.
Advantages of the Open Floor Plan
Because of the openness of this plan, there are several distinct advantages of the open floor plan, as follows:
Greater light distribution throughout the home.
Easier traffic movement.
Increased resale value due to its popularity.
Popular with entertaining guests; there is a greater sense of "community"
Disadvantages Of the Open Floor Plan
On the flip side, the disadvantages of the open floor plan may include:
There is less privacy and sound control is challenging.
The appearance of clutter and décor "overload."
Decorating needs to be more cohesive.
Higher expenses to heat and cool.
Construction cost may be higher due to architectural requirements to reinforce the ceiling and any floors above the space.
The Basic, or Traditional Floor Plan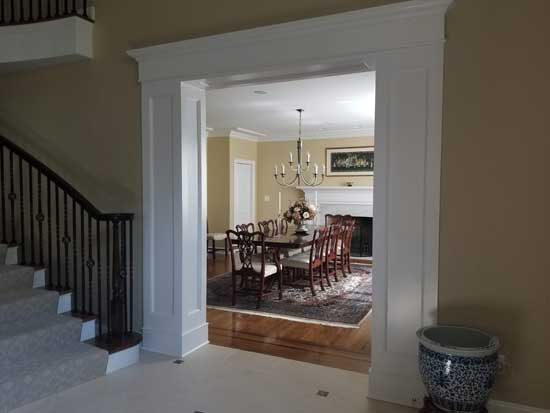 Many homeowners still choose the classic approach to the layout of their home with a basic, or sometimes referred to as traditional floor plan.
This plan is where there is distinction between rooms, with the use of walls.  With the traditional floor plan, each room within the home has its own space, and many times may be closed off with doors.  If you think back to colonial homes that you may have seen in historical towns, the traditional floor plan has more compartmentalization of the home space.
Advantages of the Traditional Floor Plan
Besides being a classic home style, the traditional floor plan does offer homeowners with a variety of advantages, including:
Increased privacy with separate areas; homeowners found this helpful during the quarantines of 2020.
Flexibility with interior decorating and style; since all of the rooms are not open, there is less needed to create a common "feel" with the décor.
Cost savings with heating and cooling; traditional floor plans can manage temperature distribution easier and more efficiently.
Improved sound control within the home.
Disadvantages of the Traditional Floor Plan
The traditional floor plan is considered a classic, but there are some disadvantages to this design, including:
Less connectivity of household members.
Traffic flow is hampered by walls.
Limitations to spaces – for example, when entertaining.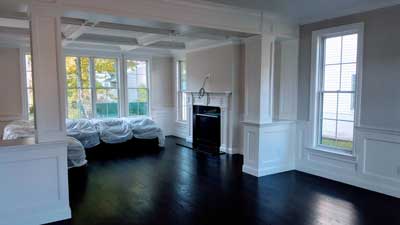 If you are struggling with the right floor plan, there is always the option to choose a floor plan that offers you the best of both plans, with a semi-open floor plan.  A semi-open floor plan blends the characteristics of an open floor plan with some degree of privacy that is found in the traditional plan.  Some of this is accomplished using creative "half walls" or various sliding doors that can open or close the space when necessary.
At Prominent Builders and Design, we work with our customers to ensure that building your custom home is easy, and we provide you with guidance during every step along the way.  When you choose to build through Prominent Builders and Design, our home design consultants will sit down with you to walk you through these important decisions.