You'll Love Your Kitchen Remodel Project with Prominent Builders and Design
The kitchen is the hub of your household. You do more than cook and eat there. If your household is like many, the kitchen is where it all happens. Because of this, you may be hesitant to go through a kitchen renovation. Let's face it, the idea of temporarily losing the use of your kitchen for remodeling seems a little stressful. Our kitchen remodel clients can assure you that Prominent Builders and Design is the best choice for any renovation work on your home.
Whether your desire is to create a more open and inviting floor plan, to add a center island or to upgrade your cabinets and appliances, you can't go wrong with our kitchen renovation design team. We can even expand the size of your kitchen by building an addition to your home. We communicate and keep you involved throughout the entire process from plan creation to completion of the kitchen. The remodeling project, when complete, will be the space you always dreamed of having.
Some Ways We Can Minimize the Stress of Your Kitchen Remodeling Project
If you are starting from scratch or already have conceptual design ideas, we will gladly work with you to create a kitchen you will love for years to come. Here are a few of the ways we can assist with your kitchen remodel:
We offer a no-cost, no-obligation consultation where we come to your home to discuss what you want to do with your kitchen.
Renovation work begins with a well-thought-out plan. If you don't yet have project plans, you will meet with one of our professional designers who will help you select the options you want in your new space.
If financing is needed, we can introduce you to multiple lending sources.
Our kitchen remodeling team will handle all the necessary permits as well as make sure any work is done in compliance with local and state building codes.
Project management takes on a new meaning with Prominent Builders and Design. Your Project Manager is ever-ready to answer questions you may have as work is being done on your new kitchen.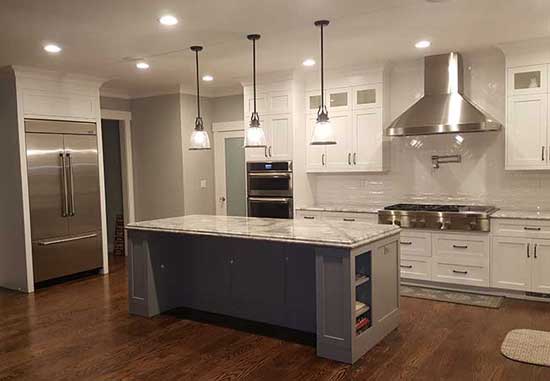 Your complete satisfaction is our main objective. We are certain you won't be disappointed.