Our Professionals Make Home Improvement in Franklin Lakes Simpler
Located in Bergen County, Franklin Lakes is a popular NJ borough. It's a tight-knit community that attracts families because of its rich features. You're close to New York City yet surrounded by the natural beauty of the rolling hills, lakes, and streams. The town also has some of the top public schools in the area. You have great taste! Because of all this, we know you will accept nothing less than the best for a home improvement project. That's where we come into the picture.
Contact us to learn more about our Franklin Lakes home improvement projects.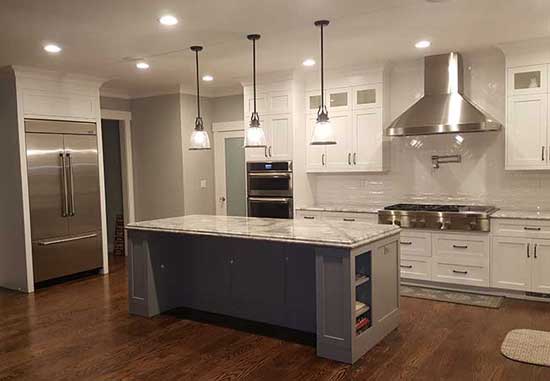 Remodeling Kitchens with Distinction
Prominent Builders and Design was founded to provide only the best home renovation services. It doesn't matter whether we are doing a complete kitchen remodeling project or remodeling your bathroom; you will be pleased with the result. Our home improvement professionals take the time to learn about your desires. We then use that information to design and renovate the kitchen of your dreams. Want an open floor plan in your kitchen? Remodeling allows us to give you one. Want high-end appliances and "smart" features? We can do that for you, too! The kitchen remodeling options are plentiful.
Contact our professionals today to get started on your Franklin Lakes kitchen remodeling project.
Bathroom Remodels Don't Have to be Boring
Whether you live in Franklin Lakes or any other town, when it comes to bathroom remodeling, our team is here to help. Whether you're looking to renovate your master bathroom, update another bathroom in your home, or even add a new bathroom, we've got you covered. With so many bathroom remodeling ideas out there, it can be overwhelming to decide what's right for your home. But don't worry, our experts are here to guide you through the process and help you make the best selections. And the best part? A well-thought-out bathroom remodeling project can enhance the value of your home, especially in a robust real estate market like Franklin Lakes.
Ready to begin your bathroom remodeling project? Contact us today.