Westwood Home Improvement Projects that are Certain to Please
If you are considering a home improvement project but are slightly apprehensive, that's normal. Most homeowners feel the same way. But with proper planning and working with the right renovation contractor, you can avoid the big messes and significant budget overruns that some have experienced. Prominent Builders and Design has worked with homeowners in Westwood and other Bergen County, NJ, towns for over three decades. We are aware of some of the common mistakes people make when renovating, so we work closely with our clients to avoid those mistakes. The result is always a kitchen or bathroom remodeling project that brings much delight to all household members.
Call our team of Westwood home improvement contractors today.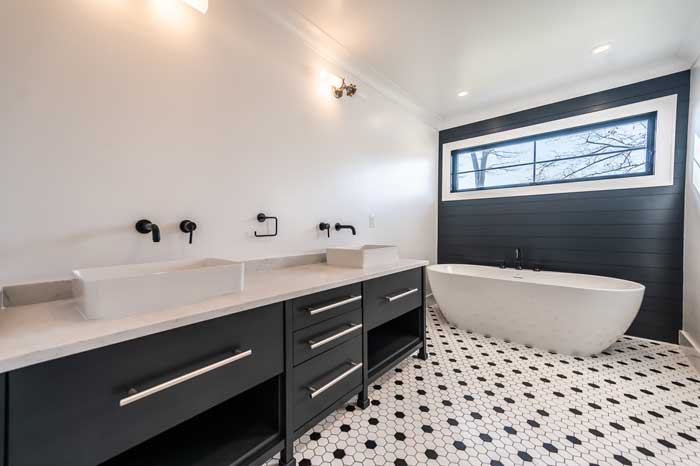 How to Avoid Bathroom Remodeling Pitfalls
These bathroom remodeling pitfalls can apply to any home improvement project. Here are some of the common mistakes homeowners make when starting a renovation project:
Setting an unrealistic project budget. There's "pie in the sky," and then there's a realistic budget. We help you flush out (pun intended) the must-haves from the wants so you can be confident in your budget.
Selecting an architectural style that doesn't match your home's style.
Being too trendy as you remodel your bathroom can hurt the resale value of your home. Don't worry; our design team can assist in this area.
Let us help you avoid those bathroom remodeling pitfalls. Contact us today.
Kitchen Remodeling Done the Smart Way
All the pitfalls listed for bathroom renovation projects also apply to kitchen remodeling. When planning, also add these items to your list of don'ts:
Selecting your appliances toward the end of the project. Though you don't have to purchase them right away, by selecting them before you start remodeling your kitchen, you can ensure the overall design accommodates the appliances.
Buying cheap materials. Home improvement projects are not inexpensive, so you may be tempted to cut corners in some areas. We are reasonably sure you don't want to be forced to replace items in a few years because the quality was poor.
At Prominent Builders, we understand the importance of quality materials and appliances that will last. Our experienced team will work with you to create a kitchen that fits your style and budget in Westwood or anywhere in Bergen County.
Don't delay remodeling your kitchen any longer. Give us a call today.