In a short time, the familiar smells of Fall will be in the air along with cooler temperatures.  If you have not taken advantage of the extra time at home this summer to keep up your home and living spaces, now is the time to be thinking of how you can get your home ready for the change of seasons. In this month's blog, we share some "do it yourself" ideas on preparing your home for the Fall season.  We also cover a few considerations for upgrading and improving your home with the help from qualified professionals, like those with Prominent Builders and Design. First, let's look at some ways that you can complete some useful DIY repairs and maintenance items for your home.
Repairs and Maintenance
Windows and Screens: If you go through the effort each year of switching your screens to storm windows in anticipation of winter, why not make sure your screens are clean and fixed of any holes? That way, if you store your screens during winter they will be ready to go back into the windows in the spring. Also, consider cleaning your storm windows and checking for any areas in your windows that may need to be resealed.
Gutters: As Fall approaches, so does falling leaves. After the leaves have fall, clean out the gutters. If you don't already have them, you may want to have leaf guards installed. While you are at it, check that your downspouts are also working and not clogged.
Doors: Inspect your entry doors for any air leaks and gaps. If it's looking old or cracked, replace the weather stripping or threshold sweeps. Also, adding some additional caulking and sealing around door frames will ensure that all doors are tightly sealed from external cold air.
Wood Decks: If you have a deck made from any type of wood product, you will want to periodically purchase and apply a good wood sealant or stain to protect from cold temperatures and moisture. Check with your local hardware or home improvement store for the right sealant for your deck wood.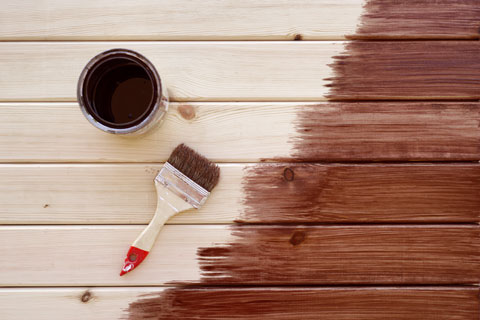 Improvements and Upgrades
Siding, Doors and Windows: Whether it is to improve curb appeal or to increase the energy-efficiency in your home, you may want to consider changing out siding, doors and/or windows. Upgrading to more energy efficient windows is a significant upfront investment, but one that pays off in the end on energy savings – both during winter and summer. The same goes for doors. Want to change the "face" of your home? Consider having the traditional siding replaced with stone facing giving your home a totally new look. There are many options for upgrading the look and energy-efficiency of your home. We would be happy to provide guidance and assist in getting the work done.
Smart Home Technology: Today's smart home technology has really advanced to be able to control a lot of key functions in your home.  You may want to contact a specialist or check out some "do it yourself" videos online.  Even smart lighting upgrades can make a difference in your electric bill, as well as create a more efficient home.  Smart home upgrades are also a selling point for prospective buyers. If you are considering a home remodeling project, ask the professionals at Prominent Builders and Design how you can begin to incorporate smart home technology. It's always easier to incorporate from the start of a project than to try to retrofit after the fact.
Kitchen or Bath Remodels: If you are not satisfied with your older, outdated kitchen or bathroom, consider a remodel before the cooler temps arrive.  Think of all the enjoyment you can add with a newly remodeled kitchen during the holiday entertainment season.  Or perhaps, that large soaking tub on a cold winter night. If you're not sure where to start, our design professionals can provide the assistance you want and need to bring your remodeled kitchen and bath ideas to fruition.  We also have a number of helpful blog articles on remodeling and renovating kitchen and bathrooms.
Flooring Upgrades: Tired of your floors or carpeting?  Why not consider upgrading your floors to a trendy wood look tile?  Better yet, why not add a warm hardwood to your décor and complete the style of your home? 
This year has really changed how we look at and use our homes for our leisure time as well as our work.  Now's the time to take charge and get some things done to make sure you are ready for the new season. 
If you are considering a remodel or upgrade to your home,
contact Prominent today to schedule a consultation.