If the change of seasons has you itching for some changes in your home, you may want to start planning a remodeling project as we move into Fall and Winter.  Why is that?  A majority of homeowners usually tackle remodeling projects in the warmer months, however, contractor availability and costs tend to be much lower as cooler temperatures approach.  There is a distinct advantage in pursuing remodeling projects at the close of each calendar year.      
Many homeowners shy away from remodeling projects during the latter part of the year due to the holidays.  The thought of family and friends navigating around paint buckets and dust covers is not a great way to share holiday cheer.  If you are planning a major holiday gathering, then a home remodel project during the winter months may not be feasible.  However, if there are no major holiday gatherings on your schedule then the next few months are an ideal opportunity to make some positive changes in your home.
In this month's blog, we break down some home remodeling projects better suited for fall and winter months and provide some guidance on the advantages of completing them during this timeframe.  We look at the typical projects that involve the use of a professional contractor like Prominent Builders and Design. We also provided some suggested DIY projects.  In the end, a lot of home improvement projects depend on your budget, goals, and living needs.
First, let's start with some of the projects that are better suited for fall and winter months that involve a contractor.
Project
Advantages
Bathroom or Kitchen Remodels

Lower cost of labor and materials, many times there may be year-end close-outs of materians such as tile and flooring, cabinets and countertops, appliances, or fixtures
Better contractor availability
Optimal airflow opportunity for eliminating construction dust vs. during hot summer months

New A/C Unit and Duct or Insulation Repair/Replacement

Better contractor availability
Avoid downtime of A/C during hot summer when demand is greater
Attics are cooler for contractors and create a more ideal work environment for them

Exterior Painting

Pressure washing is typically a prep stage for exterior painting and normally done this time of year
Dryer temperatures
Contractor availability

Deck or Patio Construction

Better contractor availability
Lower material and labor costs
Get a jump on this project so that you can enjoy your new outdoor living space for the entirety of summer
If you plan to take on an interior remodeling project during the fall or winter months, keep in mind that you will need to make some temporary accommodations and sacrifices:
Your living space may be limited to a smaller area of the home with flooring projects; consider how and where you will store large furniture during any remodeling
You may need to consider more "dining out" options and less cooking if you are doing a kitchen remodel
Family members may need to share a bathroom while a bathroom remodel is underway; budget for additional time in the mornings
Be prepared for the potential of noise and dust related to large remodeling projects
All major remodeling projects require patience and the ability to see the end vision.  Prepare yourself and family members for some temporary disruption in your lives but keep focused on the overall goal and enjoyment that you will achieve through those changes.
Best DYI Fall and Winter Projects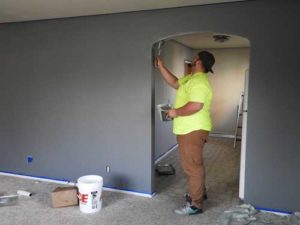 Project
Advantages
Interior Painting

Quicker drying and curation
Holiday sales on paints and painting equipment
Fresh coat of paint during darker months can add some color and cheer

Weather Stripping and Sealing

With cooler temperatures, it is easier to detect leaks around doors and windows from the outside
Sealing cracks along baseboard and counter seams can be time consuming but easier to accomplish that during hot summer months, plus drying and curaion is quicker

Minor Plumbing, such as toilet repairs or fixture replacement

Minor plumbing tasks are not a far reach for the DIY homeowner as faucets and fixtures become simpler and DIY videos are more readily accessible
Material costs may be lower due to year-end close-outs
What better time than during the months that you are indoors to consider learning a new skill and making small improvements in your home.  You will be rewarded by not only knowing you were able to advance your skills, but you made positive changes to enjoy in time for the warmer months.
If you are considering a remodeling project at this time of year, do not hesitate to contact the professionals at Prominent Builders and Design.
We are happy to consult with you and help you make your dream a reality.  Contact us today for a consultation and estimate.