It's a new year and a great time to set some short and long-term goals for yourself.  While you are identifying your personal goals, why not include some changes in your home as well? In last month's blog, Creating the Bathroom of Your Dreams, we shared ideas on how to get started with a bathroom remodel.  We reviewed key components of a large or small bathroom remodel project, along with the various materials to consider.
In this month's blog, we continue on the theme of remodeling by focusing on everyone's favorite room in the home, the kitchen!  In most homes, the kitchen is where the majority of daily activity takes place.  From cooking to entertaining, the kitchen is the social center of the home.  So, why not make it the kind of space you love and others will love as well?  Kitchen remodels are a huge component of a home's resale value so if you are considering a move, you may want to start by rethinking your kitchen.
While a kitchen remodel can be a large undertaking with a hefty price tag, you can always break remodeling tasks into smaller goals to address your kitchen improvements over time.  Let's get started and talk about the primary aspects for consideration when beginning a kitchen remodel project:
Elements of a Kitchen Remodel
The major elements for consideration with kitchen remodels include the following:
Appliances
Flooring and Tile
Cabinets
Countertops
Plumbing/Electrical
Keep in mind that if you decide to tackle one or all of the above elements, some improvement projects may be interdependent on others.  For example, if you decide to undertake a transformation of your cabinets, you will most likely need to replace your countertops as well.  So, planning goes a long way in determining what you want to remodel and when.  Our design experts at Prominent Builders and Design can help you navigate that process smoothly and confidently.
Let's go over some specific ideas and suggestions for each of the elements.
Appliances
Today's kitchens can get an instant upgrade by updating the appliances – including the refrigerator, microwave oven, dishwasher, and the range.  While it is beneficial to purchase appliances from the same manufacturer, many appliances are generic enough in design to be mixed and matched by different makers, if you have varying preferences.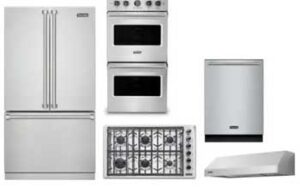 Stainless steel or black continue to be the classic finishes for most appliances.  Many manufacturers even offer "smudge free" stainless steel coatings.
There are so many different types of refrigerators from French door with bottom freezers to the traditional single door fridge.  Many manufacturers have equipped their refrigerators with smart technology.
If you're replacing a range, why not consider a slide-in range for a cleaner look, or even a flat cooktop?  A flat cooktop would require a counter replacement and further electrical work.
When upgrading your kitchen appliances, make sure to research extended warranties on the products.  Not only do extended warranties provide you with increased protection, they are great selling points when putting your house on the market.
Flooring and Tile
One of the easier upgrades to a kitchen updating the flooring.  The type of flooring really depends on your needs and tastes.  An important consideration for flooring changes in your kitchen is how the flooring will integrate with the rest of your home.  For example, if you are putting installing hardwood or laminate in your kitchen, that may require a re-do in other parts of your home.  Also, make sure to consider the transitions from your kitchen to other parts of the home.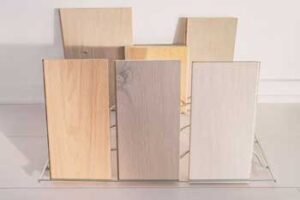 Porcelain tile is always a great way to go for any kitchen flooring.  It's durable, and there are so many patterns for how it can be laid out, as well as styles such as hardwood look tile.  Tile holds up well over time and really only requires upkeep on grout work to keep it clean and sealed.
Wood look laminate has really taken the remodeling industry by storm over the last few years.  The products are less expensive than hardwood and have durability in a variety of conditions.  Traditional hardwoods are even being used in kitchens today, but they can be susceptible to damage in areas like the kitchen, which are high traffic and tend to have more spills and drops than other parts of the home.
Don't forget about a backsplash.  There is a wide range of material options to use for backsplashes – from traditional subway tile to glass or even stone.  Consulting with remodeling experts like Prominent Builders and Design will help you find the right colors, patterns, and materials that will coordinate and work well with the other aspects of your kitchen remodel.
Cabinets
When it comes to your kitchen cabinets, the question to consider is:  Do you reface or replace?
If you are happy with the style and configuration of your cabinets, then perhaps a reface is the direction you want to take, especially if you only want to update the color or stain.  Keep in mind though, cabinet refacing can be just as costly as a full replacement.  The main advantage of refacing is that you don't have to deal with as much demolition and construction.
There are so many styles and color varieties to choose from with wood cabinets.  Choice of cabinets is a vital decision because it really influences the overall look and feel of your kitchen.  Don't forget about the hardware on your cabinets!
Countertops
Countertop replacement can really change the look and feel of your kitchen, especially if you are pulling up a dated material and putting in a natural stone like granite.  The countertops play a vital role in the overall look and coordination with your cabinetry, so make sure to choose the right materials.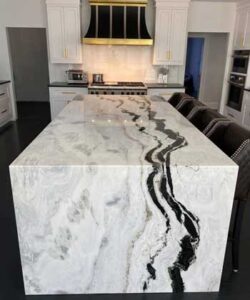 Composite materials like Corian continue to become better and there are a variety of looks and colors available.  Corian is a very durable synthetic material that can last a lifetime.
Natural stone such as granite is a popular choice for a more traditional feel.  While granite is a good choice, it does require ongoing maintenance to "seal" it against wear and water staining.  Keep in mind that the darker the granite, the easier it will be to see water stains.
Quartz has gained a lot of popularity over the last several years.  A blend of natural stone and composite materials, quartz is known to be very durable and can be made to resemble natural stone.  More and more kitchens are including counter wraps, where the countertop material is taken down the sides of an island or countertop area.
For more exotic looks, some homeowners choose concrete or Butcher Block materials for their countertops.
Plumbing and Electrical
If you have made some other upgrades to your kitchen, why not consider some additional improvements in the area of plumbing and electrical?
Depending on your countertops and cabinets, consider a farmhouse-style sink with a large faucet.  Or, perhaps you want to add a "pot filler" on the wall near your stove.
Lighting is always a great way to improve the feel in your kitchen.  Adding pendant lights over a countertop can add more ambiance and a different choice of lighting besides overhead lights.  Don't forget about under-cabinet lighting to also add a relaxed feel to your kitchen.
We touched on the surface of some ideas for kitchen remodels.  Regardless of how much you do, it's always good to have a detailed plan to not only ensure that your changes work together, but also to give you a budget to work with for your remodeling projects.
If you need help getting started, or want to have professional advice, consider contacting a design expert at Prominent Builders and Design.  We can walk you through your concepts to help you make our favorite room in the home the focal point of everyday living. We can also bring your project ideas to full completion. Give us a call today to schedule your consultation.