This past year has been a pivotal year in new home construction.  First, historically low mortgage rates induced many home buyers to take the plunge and get into the "custom build" action.  In addition to the affordability of new home construction, anyone building a new home was most likely influenced by emerging trends from 2020 and the significant worldwide events.  The global pandemic and the transformation of home as a place for education, work, and everyday living has surely factored into the trends we are seeing now and for the future. 

Those trends that evolved from 2020 and 2021 are here to stay in 2022, along with a variety of other interesting interior and exterior design trends on the horizon.  This month's blog looks at some of the key design trends for new home construction that we will see in 2022.
Home Offices:
A big one on the list is the home office.  The lengthy quarantines of 2020 shifted many organizations to consider "full work at home" for their workforce, or a hybrid combination of home and office.  For this reason, home buyers want to create a more professional space to conduct business rather than using the kitchen table for video conferencing meetings.  The design of many home offices is not traditional but more unique including built-in shelving, island or foldable type desks, and other dynamic and functional features.
Kitchens with Color and Variety:
As home buyers put their expendable income into expressing their personality at home, more colorful kitchens are emerging.  The classic white or black cabinetry is being replaced by bold, energetic hues.  And home buyers are mixing it up too – with kitchen island trim different from the rest of their kitchen cabinets.  Home buyers are making their kitchens more interesting by mixing up countertop surfaces in various kitchen areas with granite, quartz, marble, and even wood. Also, many are doing "waterfall" counters to take the countertops down the sides in place of typical cabinet trim.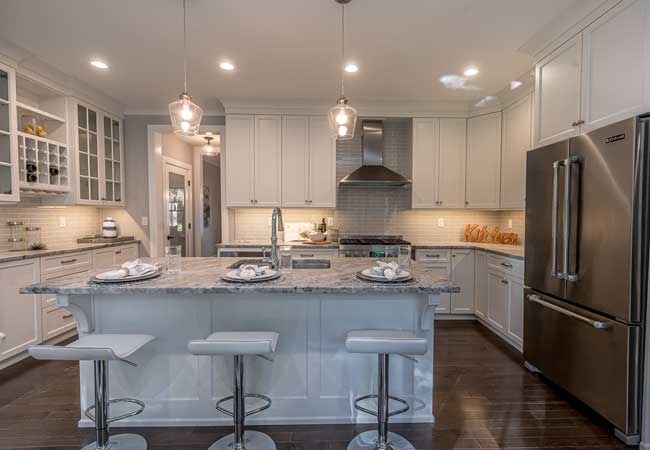 Spa Bathrooms:
The events of the last few years have prompted a greater focus on "self-care".  More homeowners are seizing this new mindset by turning their master bathroom(s) into a place of Zen and serenity.  The addition of full-sized soaking tubs, and multi-head or rain showers are ways to enhance the bathing experience.  Walk in showers with no edge or drop and more overall waterproofing between tub, shower, and the rest of the bathroom are changing the game for plumbing.  Heated floors are also showing up in bathrooms to give bathroom users a reason to linger longer during their daily bathroom rituals.
Black Accents:
Home buyers are also upping the "pop value" of their interiors by adding more black accents – such as interior and exterior window trims and frames, interior black or dark doors, and even black kitchen appliances.  These black accents are used to balance subtle hues of other neutral tones in the home interior.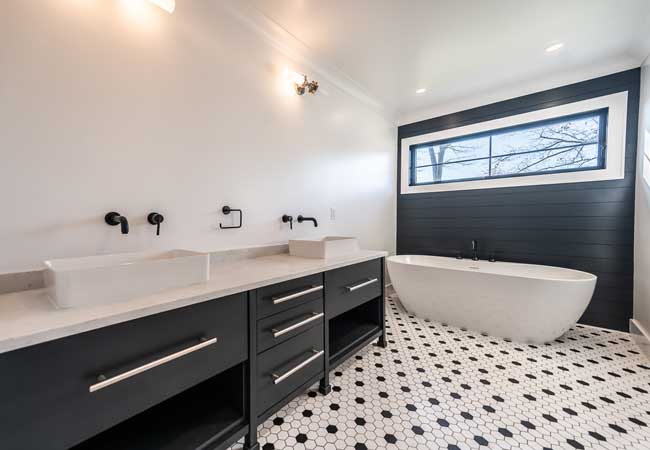 Architectural Curves:
New home construction is seeing more curves in the architectural elements that remove boring straight lines and the boxy feel.  Curved countertops, archways, and even some windows, are all gaining popularity for new home design.  Some of those architectural curves may even show up on the exterior of the home.
Outdoor Living and Entertainment:
Like home offices on the interior, the outdoor living and entertainment trend is here to stay.  Home buyers are making seamless transitions from the inside of the home to their outdoor living areas.  In many cases, they are using transitions which allow the homeowner to open the inside to the outside with the push of a button or retractable doors.  Full-sized outdoor kitchens, fire pits, audio and visual systems, and raised gardens are just a few of the ways that home buyers are enhancing those outdoor living spaces.
Eco-Friendly Landscaping:
When designing their outdoor landscaping, home buyers are choosing more eco-friendly ways to enhance the outdoor living experience.  Choosing native plants over non-indigenous species is one way that home buyers are helping their home fit into their local ecosystems.  Home buyers are using outdoor landscaping to grow vegetables, herbs, and other items that can be used in their lives.
There's a lot to be excited about new construction in the coming year.  But in the end, it should always come down to your preferences, and not following passing fads or trends.  Unless you are building a home with the intent to sell it in a short period of time, always consider ways that you can integrate your personality and self-interests into the design.
So, if 2022 has you thinking about building a new home or starting a renovation project, give the professionals at Prominent Builders and Design a call before you get started. We are happy to talk with you about your options and provide you with a proposal to help you achieve your home construction dreams for 2022!