In last month's blog post, we examined the new home construction process.  We focused on the first three phases of new home construction – Design and Planning, Laying the Foundation, and Framing.  Knowledge of these phases gives you the opportunity to better understand how your new construction home is progressing and the role you will have during this process.  In this month's blog, we discuss the remaining phases of new home construction which are the Open Wall, Drywall, and the Finishing phases.
Phase 3:  Open Wall
So, your home was framed, and you are starting to see it take shape.  But when the walls are open, it is still difficult to visualize how some areas of the home may look until they are closed in with drywall.  However, the open wall phase is a very important stage of the process where your home's main systems like electrical, ventilation, and plumbing are added.  These additions are sometimes referred to as "rough ins."
As you explore your home, you will see electrical outlets are placed on the framing, and you may see wires routed through the walls to bring electricity to other parts of the home.
You will also notice the heating and cooling system will be added to the home, specifically the ductwork will be added in the attic space.  You may see rough ins for vents and other intricate aspects of the heating and cooling system.
Finally, you will see the plumbing being further developed in the home.  The initial plumbing was added before the foundation pour but now the plumbing is being carried throughout the home where you may have a water source, such as a toilet, sink, or shower.
One helpful tip for homeowners who can visit the home during construction, is to take pictures of the open walls.  This can be very beneficial later when you may be doing work and want to know what type of electrical or other system barriers are in the walls.   If you have any other type of wiring systems in your home, such as internet/cable, phone, this will also be added during this phase.
As with other phases of the home, builders may be required to have inspections from county or other governing authorities.  This is critical to ensure that the home's construction standards are compliant with legal guidelines.  Inspections are what may sometimes hold up the progress of the home construction, especially from open wall to drywall since it's necessary to see the inner workings within the walls.  Your Prominent Builders and Design consultant will keep you advised through this process and make sure that you can address any concerns before the drywall phase begins and the walls are closed in permanently.
Phase 4:  Drywall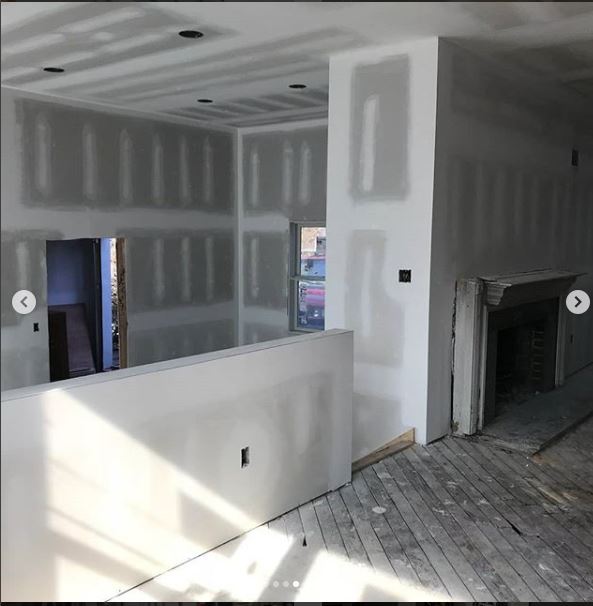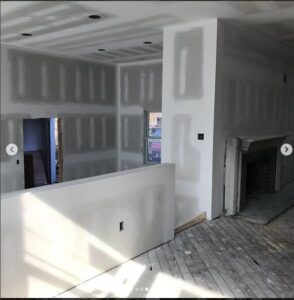 Congratulations, your home has reached the milestone Drywall phase!
By the time your construction has reached Drywall, it means that your roof, doors, and windows have been completed to close your home in from the elements.  The goal is to ensure that your home is enclosed from this point forward and most of the customized work begins inside the home.
Drywall, sometimes referred to as sheetrock, is what closes your interior walls and ceilings in for the home.  The drywall phase moves quickly and you may see it take shape in a matter of days.
Phase 5:  Finishing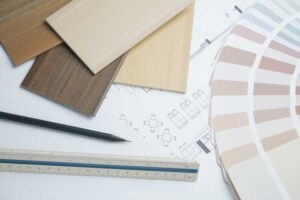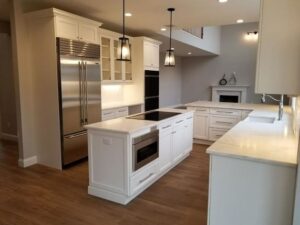 Now that your new construction home is enclosed, it's time to begin the work inside.  You should expect a variety of trades in various places of the home doing their specific jobs.  These may include:
Flooring: To install tile, wood, or carpet
Utilities: To add gas hook ups (if applicable)
Electrical: To complete rough ins, add outlets, switch plates
Plumbing: To complete plumbing rough ins for faucets, showers, dishwashers, toilets
Tile: Tubs, showers, bathrooms, and kitchens
Cabinetry: Vanities for bathrooms and kitchen cabinets
Carpentry: For stairs, baseboards, custom built-ins, and molding
Interior Painting
Appliance installation
During this phase, your Prominent Builders and Design home construction consultant will stay in close contact with you to ensure you are kept informed of progress.  Depending on availability of trades, the various jobs may be completed in different order.  During this phase, inspections may continue critical items such as electrical or plumbing.
Once all your home construction is complete both inside and outside, you will be involved in a pre-closing walk through.  This is an opportunity for you to personally examine the home for defects and issues that you want addressed prior to closing.  Working with your Prominent Builders and Design consultant, you will develop a "punch list" that needs to be completed prior to closing.  This process is very thorough and involves a lengthy visual inspection of the home and the working features of the home.  Make sure to keep records of the pre-closing inspection so you can follow-up on items that are on the list.
Building a new home can be a very exciting but complicated process.  Make sure to ask questions throughout the process so you are best informed on your new home.  At Prominent Builders and Design, we work with you every step of the way to ensure that the process is thorough, and you are satisfied with the final outcome.
Contact us today to talk about your new home construction project.